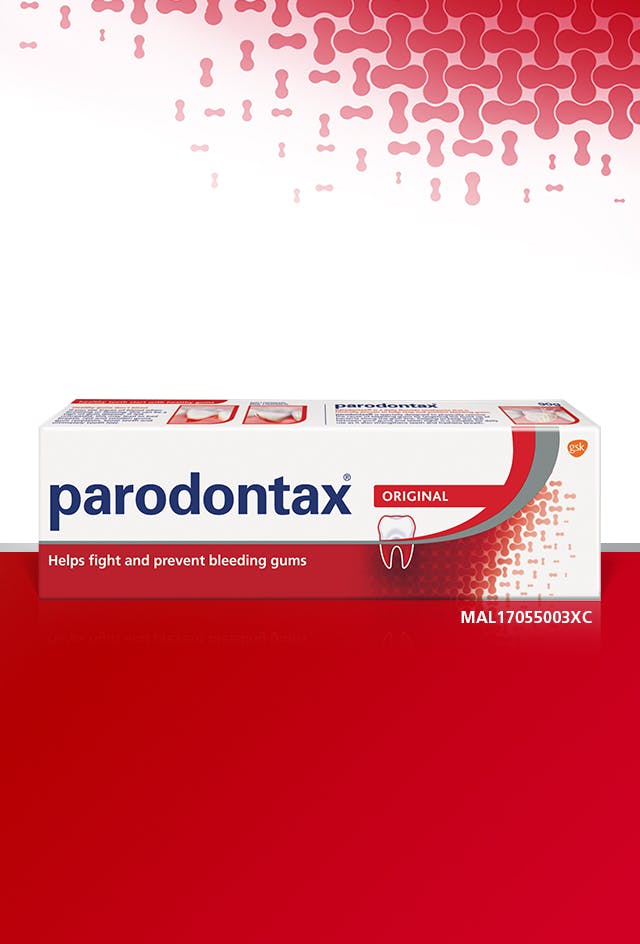 PARODONTAX DAILY TOOTHPASTE HELPS PUT A STOP TO BLEEDING GUMS*
Healthy gums don't bleed, so if you see any blood when you brush or floss your teeth, this can be a sign of gum disease. If left untreated the problem could get worse, leading to bad breath, red and swollen gums, receding gums and eventually even tooth loss.
That's why it's important to take action to treat bleeding gums.
By physically removing the build up of plaque bacteria along the gumline, parodontax toothpaste helps to keep the seal between gums and teeth tight and it is effective at removing the common cause of bleeding gums. When used twice daily it is clinically proven to help stop and prevent bleeding gums*.
parodontax Original toothpaste contain 923ppm fluoride to strengthen teeth, alongside sodium bicarbonate to help remove plaque. The taste can take a while to get used to, but most people soon grow to like it as much as regular toothpaste and enjoy the clean feeling it delivers. Used everyday, it helps keep gums healthy, teeth strong and breath fresh.
*By aiding plaque removal. Consult your dentist for more information on gum problems.
PARODONTAX DAILY TOOTHPASTE HELPS STOP AND PREVENT BLEEDING GUMS*
If you spit blood when you brush or floss, it can be a sign you have gum problems. parodontax Daily toothpaste is a toothpaste specifically designed to help keep gums healthy and help put a stop to bleeding gums*.
*By aiding plaque removal. Consult your dentist for more information on gum problems.
By clicking the link(s) above, you will be taken to an external website that is independently operated and not managed by GSK. GSK assumes no responsibility for the content on the website. If you do not wish to leave this website, do not click on the links above.

Instructions for use
ALWAYS FOLLOW THE LABEL. Brush twice a day and not more than 3 times. Do not swallow, spit after use. If irritation occurs, discontinue use. Not suitable for children under 12 years. Keep out of reach of children.